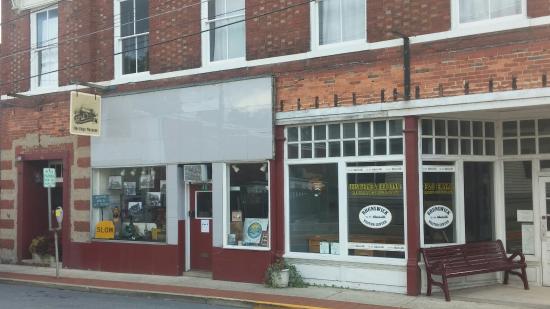 Date: August 5th/6th, 2016
Two CORE members of APS, plus other paranormal friends, investigated the Brunswick Heritage Museum in Brunswick, MD.
The area was originally home to the Susquehanna Indians, who first settled in 1728. The area was known as Eel Town because the Natives would fish for eel from the Potomac River. The town was once home to the world's largest rail yard when it was completed in 1907. In 1753, a 3100-acre land grant was given to John Hawkins by King George II. Then between 1780-1787, so many German immigrants were settling in the area that it was named Berlin. The town continued to thrive as a small river town, and it became a prominent trading post. The railroad of the Baltimore & Ohio (B&O) railroad would change the area forever.
The post office renamed the town "Barry" in 1832 because there was another Berline on the Eastern shore. The town was used as a staging area for raids in Maryland during the Civil War, and soldiers camped in the area after the battles of Gettysburg and Antietam. The B&O railyard was completed in 1890, and the town was incorporated as Brunswick. The 1910 railroad boom changed the small town, and many of the historic structures were built between 1830-1930. The historic district of the town was added to the National Register of Historic Places in 1979.
The building that houses the Brunswick Heritage Museum was built in 1904 by the Delaware Tribe N. 43, and they occupied the building until 1945. The building used to be the fraternal lodge for the Improved Order of Red Men, which was a drinking society with ties to secret patriotic societies before the American Revolution.  In 1945, the Fraternal Order of Eagles Aerie No. 1135 took over the building and they removed the Native American statue at the entrance. Today, that statue is on the second floor of the museum. The Brunswick Potomac Foundation purchased the building in 1974, and the museum was established in 1980.