Much of the APS Team lives in North Carolina, and you've probably guessed by now that we are all carefully watching the path of Hurricane Florence. As I write this, she has taken a slight turn south, and we here in the center of the state may be spared the full onslaught we had feared. We know, though, that our community stretches to the coast and beyond, and we will be watching anxiously for news of the storm from our neighbors throughout the Carolinas and Georgia.
We are no strangers to these magnificent forces of nature, and many of us have hurricane prep down pat. I looked up at our gorgeous blue skies this morning and wondered what it must have been like before NOAA and the complex monitoring, spaghetti models, 24-hour television, and other warnings we have. Our coastal ancestors must have been caught off guard countless times, lulled by the beauty and fresh air that is a pre-hurricane day in the fall—very literally the calm before the storm.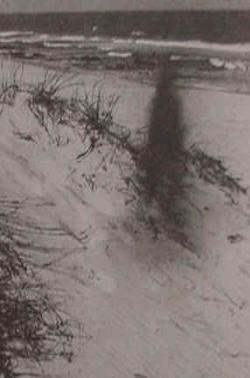 For some, though, they had the spirit of a young lover, now known as The Gray Man, to serve as warning of impending storms. And sure enough, The Gray Man was spotted in Pawley's Island, SC, on Sunday, just as our modern systems were awakening to the realization that Florence was headed this way.  South Carolinians familiar with the stories know that The Gray Man means business. And as we can see, Florence is sure to make good on his word.
Residents of Pawley's Island and neighboring towns have seen The Gray Man as a harbinger of terrible storms since the 1820s. They describe seeing him walking on the beach, looking every bit like a man in gray clothes until they approach, and he simply disappears.
The legend says that spotting him is a good thing – he is here in warning, and often, once spotted, people report their houses are spared the devastating effects of the storm. One Gray Man spotter in 1954 said even the towels hanging on her porch remained intact, in spite of widespread destruction from a storm.
An internet search will turn up several versions of who the Gray Man is, but my favorite is the love story of a young man trying to get home to his fiancé. He had been abroad for two years, and hurried to her be by her side, taking a shortcut home as a storm swept through the area. In his rush, he became mired in quicksand and never made it to her.
His love for his betrothed was so great, though, that he visited her after crossing over. She saw him walking on the beach, and then later he came to her in her dreams. But his visits left her quite heart-broken, and she became ill. Her father, the story goes, took her back to their main homestead, away from the reminders of their coastal tragedy.
The legend of their great love was born the very next day, when a devastating hurricane swept across Pawley's Island, causing loss of life and significant destruction. The young lover's life was spared by her heartache and her father's concern.
Lucky for us, The Gray Man does not limit his warnings to Pawley's Island or to the family of his beloved. He has been seen at Cape Hetaeras and along other beaches of the Carolinas, always before a major storm hits.
We can't genuinely know his story, but I do know I would heed his warnings. And once Florence has gone and clean-up has begun, we shall toast our gray-clad friend and his great love.
Special thanks to APS Core Member KayWright for her research assistance on this piece.